The last couple days have been a strange mix of Thanksgiving and Christmas.




Autumn decor is mixing with Christmas scented candles and leftover Thanksgiving weekend mess. Christmas carols are finally playing after a long, disciplined wait. Don't get me wrong. It's not easy to resist.


I love Thanksgiving.

And I love Christmas!

I love the music, baking, family, parties, lights and anticipation.



















(Joe, Christmas 2002)


Thanksgiving is sober. Reflective. Grateful. Noticing.

Christmas is a celebration. The reflection easily lost in the mayhem, but what a party! And as it should be.

I want to create Thanksmas. Or Christgiving. All the reflection and gratitude of the former melded with all the celebration and festivity of the latter. One big long holiday from late November all the way through Epiphany on January 6.

That's kind of what it is anyway. One big long holiday.

Full of gratitude, reflection, celebration and festivity.

And more thanks giving . .

602. a gift from a friend
603. the gift of friendship
604. Emy's music
605. new mercies every morning (

Lamentations 3:22-23

)
606. revelation
606. safe travel
607. the comfort of old friends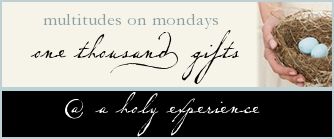 Get the new app and start counting!


Labels: 1000 gifts