My soul is starving. Like that hunger after the holidays when you just want something simple, wholesome to eat. Sugared out, your body craves health. Things like fruit. Fresh. Simple tastes that simply feed your body's true hunger.
In all the revelry of the holidays my soul got stuffed on life. Full of the richness of friends and family and activity and emotion, I'm longing for quiet. Still. Some peace.
But one doesn't come by such commodities easily in my life. In most lives. And I find myself feeling desperate. Scared. Stop the ride, I wanna get off!
I heard him rustling around this morning and hoped maybe he'd decide to let me sleep. But no. He peeled back my mask. The one that smells like lavender and blocks out the light. And helps me hide.
"Let's go get coffee." It's how we've come to start our Mondays. A ritual I usually look forward to.
"I'm scared," I admit. He knows what I mean without explanation. He's so patient. And determined to get me out of bed.
"Coffee will help you be brave. Come on."
I stand up but inside I'm crawling. And begging. "God, help me hear You. Help me be strong."
Jeff's ready to go and waiting. I wash my face. Throw on some clothes. And a quick verse from my daily devotion . .
"Be anxious for nothing, but in everything by prayer and supplication with thanksgiving let your requests be made known to God. And the peace of God, which surpasses all comprehension, will guard your hearts and your minds in Christ Jesus."
~Philippians 4:6-7
And my ears are opened.
I hear His strong reassuring voice speaking truth to my soul.
Reject anxiety. The fruit of self reliance. The lot of the loveless. The orphan. Not yours, because you are mine.
Tell Me your needs. I alone am able to order the myriad details of your life, your heart.
And remember all I've done. All the love gifts I've sent. Consider them. Take inventory. Count them even. And give thanks.
Then I feel it.
Peace. Peace! Peace.
This the promise of brave rejection, humble petition, and thanksgiving.
"Oh, what great peace and quietness would he possess who should cut off all vain anxiety and place all his confidence in God." ~Thomas A. Kempis
The ride can rage. My soul is safe and sated. Let in the light.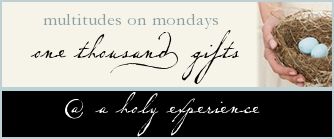 Taking the

Joy Dare

. One Thousand thanks-givings in 2012. Join me! Just 3 offerings a day . . do the math and experience the joy!
Here's #1-11 of 1000 . . got a little bit of a late start:
1. Monday morning coffee
2. Jeff's tender, tough love
3. the solace of prayer
4. fellowship of the body
5. strength for the day
6. new recipe that was a hit
7. naps
8. a Christmas tree that's still sucking water
9. the freedom to enjoy it as long as I want
10. second chances
11. a son's love to his momma through emails from the Ukraine FULL of details and photos
Labels: 1000 gifts