"Sounds like someone might be sick," I said to Jeff as he came out of the bathroom. Still lying in bed, I listened trying to determine if I was hearing coughing or vomiting. It got quiet, and I drifted back to sleep. A few minutes later Jeff walked in announcing that Ben was sick and the bathroom floor . . well, you know.
As I rolled out of bed, I said I'd clean it up, and I really didn't mind. After raising six kids, I've wiped enough bottoms, cleaned up enough pukes, bandaged enough wounds, and seen enough of the stuff we try most not to see that it really doesn't gross me out too much anymore. At least not when it's my child.
I cleaned up, and Jeff stood by dutifully ready to fetch anything else I might need. In a few minutes we were done, the wash was running, and I was checking on Ben.
Getting into their mess really doesn't bother me. I'll jump right out of bed to help clean up, whether it's the stomach flu or the troubles of life. Love does pretty amazing things to a person.
A couple weeks ago, Jeff was at work when a co-worker got hit with the same malady before he could make it to the restroom. As Jeff described the incident to me, I was
amazed
when he told me he'd taken care of cleaning up the mess. (You might be feeling a little sick yourself by now, but bear with me. There's a point here.)
It's one thing to clean up after your own child or even a spouse. But something about coming near that kind of mess when it's someone outside your own family seems at once incredibly gracious and slightly disgusting. I was so proud of my husband. And I made sure he'd showered and put his clothes in the wash.
"In your relationships with one another, have the same mindset as Christ Jesus: who being in very nature God, did not consider equality with God something to be used to His own advantage; rather,
He made Himself nothing by taking the very nature of a servant, being made in human likeness.
And being found in appearance as a man,
He humbled Himself by becoming obedient to death
- even death on a cross!"
~Philippians 2:5-8
Jesus washed His friends' feet. And I imagine if they got sick He would have cleaned up their puke too. More than that He entered the disgusting mess of their sin. My sin.
I don't like to identify with other peoples' messes. Especially when it reminds me of my own. It's the kind of stuff we try most not to see. But that wasn't His mindset. Thank God.
He made Himself "nothing" and became a servant. The love He demonstrated not only entered our mess, but took its consequence on Himself and carried it all the way to the cross.
This
is the mindset I'm called to copy in my relationships. In all of them, not just for my family.
This
is a humility I am far from, but I know each day will give me plenty of opportunity to get messy.
May I enter it with His love that redeems and grace that heals.
Counting the ways He's turned my mess into grace . .
12. Sam singing
13. hope as I plan for the future
14. provision
15. surprises
16. more emails from Josh
17. time with old friends
18. call from Daniel
19. courage to step
20. grace from friend
21. the realization of a dream
22. patterns that make me happy
23. reading and laughing with Sam
24. my new notebook
25. Bible reading plan
26. opportunity to show love to Jeff
27. Kraft Mac 'n Cheese
28. steamed broccoli with butter
29. courage to step
30. Words With Friends
31. security of prayer
32. wind
33. still
34. creak of house
35. my boots
36. talk with Debbie
37. time with Ben
38. beauty of submission
39. Jeff's smile wrinkles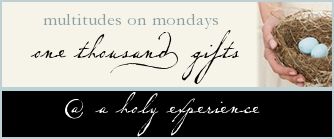 Labels: 1000 gifts