I'm really tired today. Bone tired. In fact, my bones ache. After five weeks straight of non-stop cleaning, painting, packing, moving, and cleaning again, my body has gone on strike. It's a miracle really that it lasted as long as it did. I fight fibromyalgia, and this kind of physical, emotional, and mental stress would have normally put me to bed weeks ago.
Now I'm in a bit of a weary fog, but it's still a thankful place. Just not a very productive one or one that lends itself to writing or unpacking. So I'm mostly taking in . . the sun, the beauty of our new mountain home, and the words of others.
Here is the best thing I've found today at one of my favorite new places to visit. I think you'll enjoy it too.
Why the Kids Really Need a Little Red Hen Mama . . by Ann Voskamp at Mom Heart
God's good gifts
#742 - 751 . .
amazing friends
watching spring wake up
a long email from Josh in Ukraine
experiencing far off places vicariously through kids
redbuds
sunsets
Em's chalk wall
celebrating with pie
quiet places
how a flare can be an invitation to be still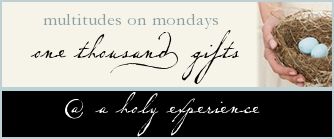 Labels: 1000 gifts