"Pleeeeeaaassse keep your hair down."
Sam reaches for my hands as I try to pull back my hair into a ponytail.
"I need to pull it back, Sam."
"Nooo. Please keep it down," as he fluffs it up into the air.
He pulls it across my face and laughs, "You look like a squid!"
I don't know how he gets a squid out of hair all over my face, but it doesn't matter. His laugh is worth it.
"Sam, why don't you want me to pull my hair back?"
I almost always wear my hair back when I'm home. It keeps it out of the way while I'm working, and I've always got plenty of work to do. I only wear it down when I'm ready to relax. Kick back. Let go. Or get pretty for a special occasion.
"You look mean when it's pulled back."
Mean? Really?
He fluffs it up in the air again. "You're so pretty when it's down."
Might he mean happy?
His ten year old self seems to have identified the correlation between "happy, relaxed, loving momma" and letting my hair down.
I think it looks messy down, especially when I haven't styled it. But I relent, and Sam snuggles close.
That's how I want to spend this Christmas. Hair down.
The impending activities, mandatory "fun" and "to do" list are growing right before my eyes like the inflatable snowman we set up last night.
Everything in me wants to pull my hair back. Tight. I've got work to do!
But there have been too many years when it came January 1st, and I felt like I'd missed it. I'd been there in body, but always somewhere three steps ahead in mind.
I didn't enjoy Christmas.
en

joy
|

enˈjoi

|
verb
[

with

obj.

]
1
take

delight

or pleasure in (

an

activity or occasion)

:
Joe
Kim
enjoys
reading Icelandic family sagas
Christmas stories to Sam
.
•
(
enjoy oneself
)
have

a

pleasant

time

:
I could never
enjoy
myself, knowing you were in your room alone
waiting for me to
enjoy
Christmas with you
.
•
[

no

obj.

, in

imperative

]
informal
used to urge someone to take pleasure in what is being offered or is about to happen

:
Bake until the filling starts to bubble and the crust turns golden brown
(
that works
)
.
Enjoy
!
2
possess and benefit from

:
The security forces
people who know the true meaning of Christmas
enjoy
legal immunity from prosecution
the incessant demand to do it all
.
I'm not waiting until New Year's to make resolutions.
I'm resolving today to . .
ENJOY CHRISTMAS!
It might be messy, but Sam is snuggling close.
And it's totally worth it.

God, thank you for . .
1. a surprise note & birthday gift in the mail from a dear friend
2. my birthday . . so thankful for this life
3. my loving husband
4. that I've known grace . .
5. . . and am learning to live in it
6. Thanksgiving Day's feast
7. time with relatives
8. the lifeline giving thanks can be
9. listening to Ben (16) help our friend Stephen (7) with his homework
10. watching Sam learn patience
11. helping me hold my tongue
12. mid-afternoon coffee
13. new shelves in the pantry
14. a husband who loves to make my life easier
15. how a never ending "to-do" list = a full life
16. Facebook photos of Daniel in Italy
17. Daniel taking me with him through his travel diary
18. the sun rising over the mountains
19. that you are sovereign
20. forgiving
21. compassionate & gracious
22. slow to anger
23. rich in love
Thirty Days of Thanks is a challenge I make to myself each year to
countdown to the holidays by giving thanks every day . . thanks for one thing the first day, two the second, three the third, all the way to giving thanks for thirty things on the thirtieth day
.
If you'd like to read more about why I do it or want to join me, click here

.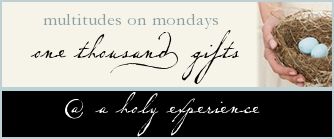 Labels: 1000 gifts, Thirty Days